FLORENCE and ALAIN NIERVEZE
since 10 years we have been interested in amateur radio-astronomy. our observatory is located at 0 deg 41' 37" west,44 deg 57 ' 04 " north at an altitude of 21 meters.

Looking at the map , it is in a little village named LE PIAN MEDOC located a few kms north -west from the town of BORDEAUX in FRANCE.


For OMS qra locator IN94PW.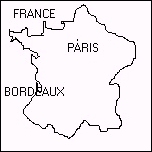 MAP OF FRANCE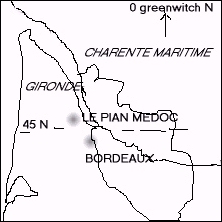 LE PIAN MEDOC near BORDEAUX.
ENGLISH HOME PAGE