THE CONTINUATION.
VHF RECEIVERS ON 169 MHZ
IF YOU WANT TO LISTEN TO THE SUN IT IS PREFERABLE TO USE VHF. THE RECEIVERS SHOULD BE VERY STABLE FROM THE POINT OF VIEW MECHANICAL, ELECTRONIC AND THERMIC.

The new generation of receivers was built from old aviation receivers with radio valves, chosen because of their simple and very sturdy mechanics ( mechanical stability) . We provided them with a stabilized power supply (electronic stability), without going as far as regulating the 6.3v heaters voltage and put them on the frequency of 169 mhz for a long time used at Nanšay. We made two, one of them used for a total power receiver, the other one to make an interferometer for two antennae.

We used standart tv antennae , and build 4 preamplifiers in transistors with weak noise ( cf300 ), one for the receiver total power,two others for the interferometer, the 4-th is for spare.
Photos show antennae and the receivers, with an output on the double track recorder. We observe with these tools of very beautiful bursts, and beautiful interferometries. The receivers are very sturdy, have few breakdowns. Lamps fed under 90v of hv are stable. The thermic stability is improved by the fact that every receiver is in a standart 19 'rack provided with several ventilators which turn permanently. The receivers, too, are switched on permanently. Preamplifiers with transistors are fed by a small regulated and ventilated power supply. The power supply of all the receivers is improved by a saturated iron block ( Reguvolt) which is ventilated permanently too.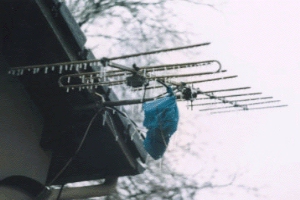 ONE OF THE VHF ANTENNA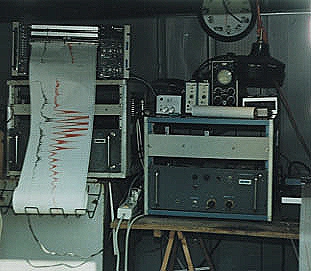 THE 169 MHZ RECEIVERS
Inside of the small shelter of garden, are
Also the uhf receiver and the remote control of
The 9ghz parabola (cf after).
ALL THIS CAN SEEM MANY PRECAUTIONS, BUT IT IS INDISPENSABLE
IF YOU WANT TO OBTAIN STABLE RECEIVERS, BECAUSE ANY INSTABILITY
RETURNS THE INTERPRETATION OF THE TRACK IMPOSSIBLE.

CONTINUATION